University of Derby buys Buxton 'work experience' centre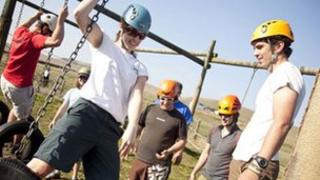 The University of Derby has bought a 58 acre (20 hectare) outdoor centre in the Peak District, which students will learn to run as a commercial business.
Oaklands Manor in Buxton will be used as an outdoor campus to provide management and activity courses.
Countryside management students will take responsibility for planning the centre's long term sustainability.
The centre comes equipped with a 30ft (9m) climbing wall and an artificial underground caving course.
It also includes purpose-built accommodation suitable for groups.
The university said it would provide specialised skills training and offer a "unique work experience" for students.