Derby Eagle Market closure 'inevitable'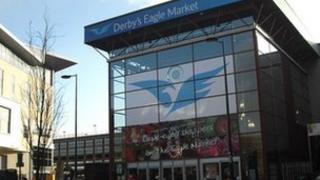 The closure of one of Derby's two indoor markets is inevitable, according to the leader of the city council.
Conservative Philip Hickson said it was time to stop "dodging" the issue and that having both the Eagle and Guildhall markets was untenable.
Their rental incomes had fallen and the Eagle Market should close, he claimed.
But the Liberal Democrats, partners in the coalition-controlled council, so far agree with Labour that any decision must await the results of a review.
Mr Hickson said the Eagle Market and Guildhall had both been struggling to fully occupy their stalls.
'Obvious' candidate
He added: "That's the inevitability of closing Eagle Market and there's no point in dressing it up and trying to dodge the issue.
"We have to have a realistic conversation about where's going to be the best place to combine the two and have one good market rather than two that look as though they're on their way out.
"The market hall [Guildhall] is a historic building and one which wouldn't easily lend itself to any use apart from a market."
Mr Hickson added that Eagle Market was the "obvious" candidate for closure.
But Pete Jessop, chairman of the Eagle Market, said stalls were unoccupied because the rates were too high.
"I have been chair of the market for seven months and I have been fighting to get the rates down," said Mr Jessop, who runs a fruit and vegetable stall.
"We pay nearly £13 a square foot, which is more than they pay in the Westfield [shopping centre].
"The market is too big. We told the council this when they rebuilt it but they just don't listen to you."
Labour leader Paul Bayliss said a decision had not been made to shut any indoor market because a review was still under way.
"I simply don't know and I'm surprised that the Conservatives are making that announcement [to close Eagle Market] to that effect," he said.
Hilary Jones, Liberal Democrat leader, said there was "sort of a dead alley with no stalls open at all, but it's not as simple as saying we're going to close that market".
"Obviously it's people's livelihoods and there are many hurdles that we have to go through before we can say that the Eagle Market could close."
Since 2007, the authority has been putting together a Markets Strategy, but so far nothing has been put forward.
A third of seats on the council are being contested in local elections on 3 May.