Protest held over Derbyshire youth service cuts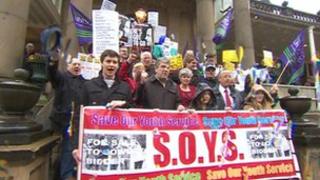 Protesters opposed to cuts in youth services in Derbyshire held a demonstration ahead of a council meeting to discuss the proposals.
Plans to close 29 youth clubs run by Derbyshire County Council were announced last December.
Wednesday's meeting was prompted by a 16,000-signature petition. The authority said the clubs were expensive to run and under used.
About 60 people protested outside County Hall in Matlock.
The county council is proposing to offer grants to voluntary and community groups to provide youth activities instead.
Conservative councillor Barry Lewis said the changes were aimed at giving more young people more opportunities to take part in youth activities.
Because the petition reached over 16,000 names, it ensured the youth service plans had to be debated by the full council.
The cuts could also lead to the loss of nearly 160 youth worker jobs.
Labour councillor, Anne Western, said: "It's really tragic to think that that could be lost and the services that they provide to young people could be lost as well.
"That's why I think the public has got behind the petition."
The cuts are part of the Conservative-run authority's four-year plan to save £96m up until March 2015 because of a fall in government grants.
A decision on the youth services is not expected until next month.