Lorry crashes through Swadlincote kitchen wall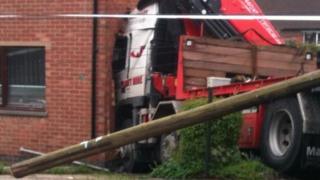 A lorry has crashed into the kitchen of a house in Derbyshire.
Police said the semi-detached property, on Lincoln Way in Midway, Swadlincote, had been struck by the vehicle just before 08:00 BST.
Derbyshire Fire and Rescue sent a crew to the scene but a spokesman said he did not believe anybody had been injured.
A telephone pole was also brought down in the crash, taking out the phone lines of several houses.
Paul Wallis, watch manager, said such accidents were rare.
"I had to deal with something similar a year ago, but that was involving cars, not a lorry," he said.
South Derbyshire District Council has begun working to make the house safe so it can be handed back to the tenant and landlord.