Skateboard honour for Derby man Ashley Finlay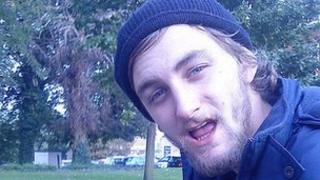 Friends of a man who died after being attacked in Derby have planned to create a skateboard in his honour.
Skateboarder Ashley Finlay, 24, of Spondon, was found near the Olde Bell pub, in Sadler Gate, at 03:30 BST on 9 April.
Rosa Blakemore, who knew Ashley for about six years, said she wanted to do it as an "ultimate" tribute.
She added the money raised from the sale of the boards would help erect a memorial for Mr Finlay.
Miss Blakemore said: "We wanted to do it as the ultimate tribute to Ash, he'd absolutely fall off his chair if he knew this was happening for him.
"He'd be grinning from ear to ear."
Thomas Cullen, 29, of Taylor Street, Derby, was charged with Mr Finlay's murder while a 45-year-old man was released on police bail.
Mr Cullen has been remanded in custody and will appear at Nottingham Crown Court on 13 July.
Mr Finlay was a regular at the skate-park at the Bass's Recreation Ground in Derby.