Derbyshire celebrates the Queen's Diamond Jubilee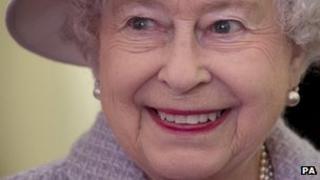 Street parties have taken place across Derbyshire to mark the Queen's Diamond Jubilee.
Events planned for the occasion included a picnic in Derby's Market Place where celebrations from London were shown on the big screen.
Renishaw Hall, near Chesterfield, hosted The Big Jubilee Lunch Party on Sunday and Ashbourne has an It's A Knockout event on Monday.
Chatsworth House celebrated with a party and Jubilee-themed walking tour.
Beacons lit
More than 100 street parties were held by members of the public in Derbyshire during the double bank holiday.
Councils warned there would be a number of short-term road closures in towns and villages across the county to accommodate the celebrations.
In addition to the street parties, beacons were lit at locations across Derbyshire on Monday to mark the Queen's 60 years on the throne.
Beacon locations included Crich Stand, Riber Castle, the University of Derby and Poolsbrook Country Park in Staveley.
Chesterfield Borough Council is also planning a new statue in Queen's Park, to be installed later this year, which will feature 60 points, each containing a sentence summarising a national or local event from the past six decades.
See all the latest Diamond Jubilee news and features at bbc.co.uk/diamondjubilee .