Seven-year-old Lewis Mighty dies after cancer battle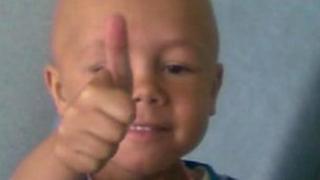 A seven-year-old boy from Derby has died following his battle with a rare form of cancer.
Lewis Mighty was diagnosed with neuroblastoma in 2008, a form of childhood cancer which attacks the sympathetic nervous system.
Around £300,000 was raised for him to receive immunotherapy treatment in the US.
Sarah Fullerway, a family friend and trustee of the Lewis Mighty Fund, said the youngster was "remarkable".
She said: "He's never complained. He's just got on with it. I think in the back of his mind he wanted to make sure his family were alright and they weren't hurting too much.
"The things that he has said over the last few days for a seven-year-old are just absolutely remarkable."
More than 2,000 tributes have been posted on Facebook following the boy's death at about 02:30 BST on Wednesday.
Hundreds of people attended a special vigil for Lewis in Mackworth, in Derby, at the weekend.