Lewis Mighty memorial event in Mackworth attracts hundreds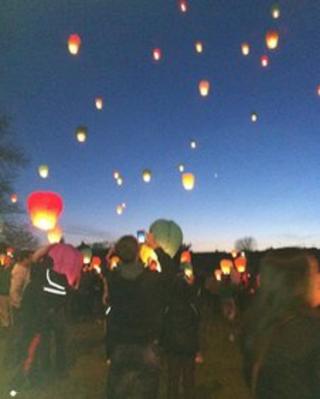 Hundreds of sky lanterns were released by a community in Derby to pay tribute to a seven-year-old boy who died from a rare form of cancer.
Lewis Mighty was diagnosed with neuroblastoma in 2008, a childhood cancer which attacks the sympathetic nervous system. He died on Wednesday.
The memorial event in Mackworth saw local people lighting lanterns and adding candles to a memorial shrine.
Nearly 1,000 lanterns were released in Lewis's memory.
'Bravest boy'
One local well-wisher said: "It's been an incredibly emotional day - everyone in Mackworth loved him.
"I've never seen anything like it and probably never will again. All those tributes and toys - it just brings a tear to your eye.
"He was the bravest boy I've ever known in my life."
Sarah Fullerway, a family friend and trustee of the Lewis Mighty Fund, said: "He's never complained. He's just got on with it. I think in the back of his mind he wanted to make sure his family were alright and they weren't hurting too much.
"The things that he has said over the last few days for a seven-year-old are just absolutely remarkable."
Lewis had been free from symptoms of the condition for almost two years before he fell ill again last month.
Following his death, more than 2,000 tributes were posted on his dedicated Facebook page.
Lewis's death also led to celebrity tributes on Twitter.
Gary Barlow, Piers Morgan, Dermot O'Leary, singer James Morrison and rapper Wretch 32 were among the famous names to pay their respects on the social media site.
Hundreds of other Twitter users from around the world also posted messages about the seven-year-old.