Derby fire deaths: Neighbours to form human chain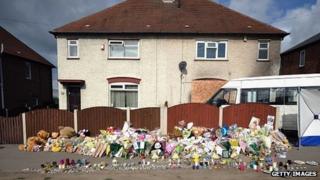 Up to 1,600 people are to form a human chain in Derby to pay tribute to six children who died after a house fire.
The fundraising event, on 5 June, will see well-wishers assemble at the house on Victory Road in Allenton and form a line to a nearby park.
Jade Philpott, 10, and brothers John, nine, Jack, eight, Jessie, six, and Jayden, five, all died in the fire. Duwayne, 13, died later in hospital.
An inquest has been opened and adjourned at Derby Coroner's Court.
Anthony Slater, a local resident who helped set up a fund for the family, said money raised would help pay for the children's funerals as well as replacing furniture lost in the 11 May fire.
He said the support from the local community had provided some comfort for grieving parents Mick and Mairead Philpott.
He said: "They're completely overwhelmed by it all. They said the community was helping to take some of the pain away."
Other fundraising events planned include a car wash, an auction and a family fun day.
Adjourning an inquest into the deaths to a date yet to be set, Derby coroner Robert Hunter offered his condolences to the family and said the tragedy had "shocked the nation".
TV comments
Meanwhile ITV has apologised for comments made by newspaper columnist Carole Malone about the fire during an appearance on This Morning on Monday.
Ms Malone suggested the large family may have attracted resentment and described the fire as "an accident waiting to happen".
An ITV spokesman said: "The views expressed in the This Morning newspaper review on Monday were those of Carol Malone and not shared by ITV or This Morning.
"Our thoughts are with the family and all those affected by this tragedy at this difficult time."
An investigation into the blaze is continuing after police confirmed the suspected arson had been started with petrol below the letter box inside the house.
Derbyshire Constabulary's Assistant Chief Constable Steve Cotterill said: "In response to our recent appeals, several people from Allenton have come forward to tell us they have CCTV cameras that we were not aware of so we will be looking at the footage to determine whether anything has been captured.
"We have also seen an increase in calls since the press conference Mr and Mrs Philpott held on Wednesday. These calls will help us to add to the bigger picture of what happened before the fire."
A 28-year-old woman and a 38-year-old man who were arrested on suspicion of murder in connection with the fire were later released without charge.