Attacked Leicester taxi driver 'too scared' for night work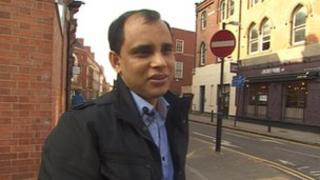 A Leicester taxi driver has said he is "too scared" to work at night after he was attacked by four people.
Harun Shah Zaman said he was attacked after he picked up two men and two women from a club in Abbey Street on Saturday morning.
He said he was grabbed round the throat, punched repeatedly and robbed.
Police said they have re-issued taxi safety advice and are appealing for witnesses to the attack.
Mr Zaman said the group started hitting his car on the way to Pocklingtons Walk, trying to "grab him through the payment hole".
He said he was shocked that no-one helped him when he pulled up.
"I see a few taxis, a few people there, and I thought it was safe to let them go," Mr Zaman said.
"They got out and opened my door. I'm trying to stop them and I just couldn't.
"People were just watching, it was about five to seven minutes and nobody came forward to help me."
Mr Zaman said he may even try to get another job.
"I'm feeling like it's not a very safe job to do," he said.
"This is our living, and if we can't work safely we'll lose our livelihood."