Derby fatal fire: Police keeping 'open mind' on motive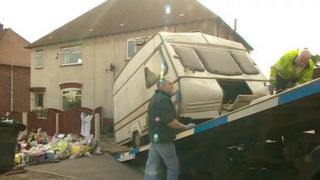 Police are "still keeping an open mind" on the reasons why a fire which led to the deaths of six children was started.
Officers removed a minibus and caravan from the house in Allenton, Derby, on Monday for forensic examinations.
Derbyshire Constabulary's assistant chief constable said police had finished speaking to the children's parents, Mick and Mairead Philpott.
Assistant Chief Constable Steve Cotterill said this was helping piece together events before the fire.
"I am committed to this investigation and more than 60 officers continue to investigate this tragedy and are determined to uncover the truth," he said.
"We are still keeping an open mind as to the reasons for the fire being set."
Jade Philpott, 10, and brothers John, nine, Jack, eight, Jesse, six, and Jayden, five, all died in the fire in the early hours of 11 May.
Duwayne, 13, died in hospital on 13 May.
All six died from inhaling smoke.
Mr Cotterill said: "We have completed speaking to Mr and Mrs Philpott and this is assisting us in piecing together the events of the evening."
He said the minibus and caravan had been taken to a garage as they could not be examined thoroughly in open air at the scene.
Forensic examinations were also continuing at the scene, he added.
Police are continuing to support Mr Philpott, 53, and Mrs Philpott, 31.
A 28-year-old woman and a 38-year-old man who were arrested on suspicion of murder in connection with the fire were later released without charge.