Three Derbyshire schools closed due to travellers on land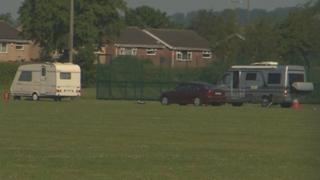 Three Derbyshire schools were forced to close for the day after travellers moved on to their grounds.
Seven caravans were driven through the school gates and on to the playing fields at 19:30 BST on Tuesday.
Parklands, Harrington and Wilsthorpe schools, which share the same land in Long Eaton, decided to close. About 1,200 pupils were affected.
The police gave the travellers a deadline to leave and they left the premises.
Parklands Nursery and Infants, Harrington Junior and Wilsthorpe Community School, share a main public access road.
'No consideration'
Andrew Rose, 39, deputy head teacher at Wilsthorpe, said: "They drove onto the middle of the school playing fields yesterday evening while the gates were open because events were taking place at the schools.
"When I arrived this morning, I saw a police van and car blocking the main drive."
One traveller, who gave his name as John, said their decision to stop there had been prompted by frustration at a lack of permanent traveller sites provided by the county council.
He said: "We're sick of this happening seven days a week. As soon as we leave and go somewhere else, we'll have the same thing again."
Sharon Cully, whose son attends Parklands, said: "I feel so angry towards these travellers entering on to school fields with no consideration for the teachers, staff and children, it's just very upsetting."
Eight students, who are taking an A-level geography exam, were allowed to sit the test as normal.