Derbyshire car repair workshop fire father praises son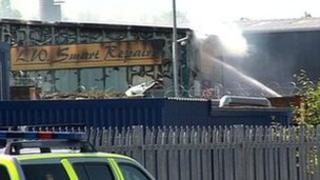 The father of a man who died after a car repair workshop fire in Derbyshire says he was "a kind and loving man".
Daniel Brown, 27, from South Normanton, was rescued from a burning building on Meadow Lane industrial estate on Saturday.
He later died at the Queen's Medical Centre in Nottingham.
His father Stuart said: "Dan was a thoughtful man who always put others first. He never caused trouble and we never fell out."
Two other men were treated for burns.
Police said an investigation was under way into the cause of the fire.