Matlock Bath Pavilion opens for arts festival during Jubilee weekend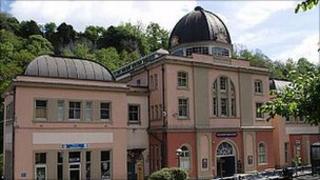 A historic building in Derbyshire has opened for an art exhibition for the first time since it was taken over by the local community.
The Grand Pavilion, in Matlock Bath, was a music and entertainment venue but closed several years ago.
It will cost £2.5m to restore completely but community organisers have decided to open it temporarily.
The Derbyshire Open Arts event is being held at the pavilion during the Jubilee weekend.
The pavilion was used as a nightclub until 2008.
It has plans to install a 400-seat theatre in the pavilion.