Ranger anger over rock graffiti in Derbyshire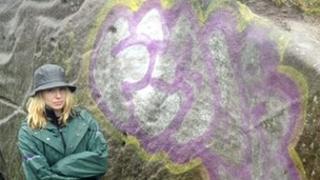 Rangers at a Derbyshire beauty spot have stepped up patrols to catch vandals who are defacing large areas of rock with spray paint.
The outcrop of gritstone is part of the Black Rocks woodland, near Cromford.
The use of CCTV is being considered by the Forestry Commission and Derbyshire County Council.
Park ranger Andrew Norman said spending money tackling the problem was taking resources away from other parts of the service.
Councillor Simon Spencer, deputy leader for Derbyshire County Council, said specialist cleaners would need to be brought in to remove the graffiti, with council tax payers footing the bill.