Bolsover's Europe grant bid aims to double town funding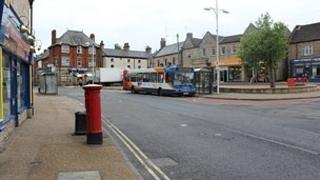 Money to boost a Derbyshire town centre could be more than doubled, officials have said.
Bolsover Town received £100,000 from the High Street Innovation Fund, which was set up on the back of the Mary Portas review of high streets.
This will now be used as match funding needed to apply for European grants.
The project will be led by a Town Team - made up of the district and town councils, businesses and landlords - aiming to improve the local economy.
The team will oversee the bid for another £120,000 from the European Regional Development Fund.
'Even more benefits'
Cabinet member for regeneration Alan Tomlinson said: "Bolsover town is going through a period of change and we said we would work closer with the town's businesses to help them and that is exactly what we are going to do.
"We are one of only two authorities in Derbyshire to receive this grant and by using it as match funding we are hoping to double it and bring even more benefits to the town."
Measures already planned include business improvement seminars, markets and events, along with renovation of shop fronts and historic features.
A decision on the bid is expected later this year.