Derby fire deaths: Philpott brother thanks community for support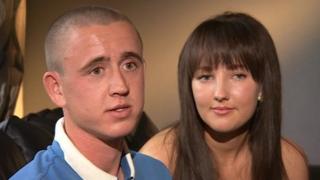 The brother of six children who died in a house fire in Derby has thanked the community for their support.
Richard Philpott, 24, said his siblings would not have had the funeral they deserved without people fundraising.
He also thanked people who helped after the fire, including firefighters, neighbours, police and paramedics.
The children's parents have been charged with their murders but Mr Philpott said all of the family remains united.
"We are always sticking together," he said.
"Friends and family have been brilliant. It's made us all stronger and closer."
His partner Lisa Keeling, 21, added: "We are so strong and so united and believe in what is right."
'No more birthdays'
Jade Philpott, 10, and brothers John, nine, Jack, eight, Jesse, six and Jayden, five, all died in the fire in Victory Road in May.
Duwayne, 13, died three days later.
The children's parents did not attend their funeral at St Mary's Catholic Church in June, but Richard helped to carry Jade's coffin.
"I feel proud to have carried my sister," he said.
"I wish I could have carried them all in a way. It was a beautiful send-off."
The funeral was largely paid for by public donations.
Miss Keeling said: "Without the community the children wouldn't have had the send-off that they deserved; the coffins and the flowers and the horse-drawn carriages.
"They are not going to have any more birthdays or any more Christmases or anything like that and it helped them have the best last present that they deserved."
Mr Philpott said: "I suppose in a way I didn't really understand fully the impact it had on the community until the day of the funeral, until all the people turned up. It was beautiful."
Mr Philpott was brought up in the house where his siblings died and although he had left home he still visited once a week.
"I obviously took three of the lads to Derby games because they had four season tickets," he said.
"I was very, very, very close to them."
Miss Keeling added: "They loved it when he went round. As soon as he walked through the door they was all jumping up his legs."
Mr Philpott said: "There's not really a morning I wake up not thinking about them."