Derbyshire A52 to be resurfaced after pothole complaints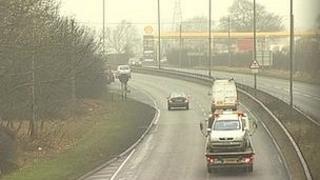 Plans for the resurfacing of a major route on which motorists complained about potholes have been announced by the Highways Agency.
Drivers say a stretch of the A52 between Spondon and the M1 junction has become so uneven that it has started to damage cars.
The agency said it had received about 20 complaints over the past 12 months.
A spokesman said short-term emergency repairs would be followed by a full resurfacing by next April.
The road has suffered serious problems since early 2010 after cold weather led to the surface breaking away.