Power cable forces Derbyshire music festival evacuation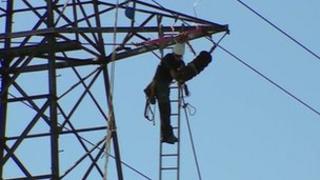 A Derbyshire music festival site was partially evacuated after a live overhead power line snapped.
Three hundred people were led to safety after the cable fell into a camping area at the Rock and Blues Old School Weekend at Coney Grey Farm in Pentrich.
The incident happened near Ripley shortly after midnight.
No-one was injured and fire crews installed a cordon in the area while Western Power Distribution worked on the problem.
About 3,000 people are thought to be attending the three-day event, which was expected to go ahead as planned.
Station Manager David Crowther, from Derbyshire Fire and Rescue, said: "An electrical cable fell from an overhead pylon striking the camp - it was a lucky escape for a lot of people.
"There is still a risk and we have put in place a 1,500 sq m cordon around the area to keep everyone safe."
Stallholder Aly Hushaq said: "We thought we were being attacked or that something had happened like a petrol bomb going off."
Clive Thomas Jackson, lead singer of the group Doctor and the Medics, who was hosting the event, said: "The crowd was as good as gold - you could say the atmosphere was 'electric' - and it got a huge cheer.
"No one was hurt or injured."