Abandoned Jack Russell ate another dog, court hears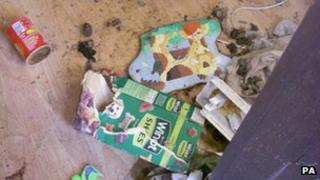 An abandoned Jack Russell dog was so hungry it was forced to eat another dog after being left without food or water for more than a month.
Buxton Magistrates court heard Shane Potts, of Lower Lane in High Peak, Derbyshire, moved out of his house in February, leaving the two dogs behind.
An RSPCA inspector found the surviving dog in a "terrible" condition.
Potts admitted two charges of causing unnecessary suffering to the dogs and will be sentenced on 21 August.
'Devastating' find
RSPCA Inspector Lorna Campbell said she had been called to the house by a concerned member of the public in February.
She described the moment she found the two Jack Russells - Nala, a female and Simba, a male - as "horrific".
"When I saw Simba at the window it was obvious he was emaciated and when I looked in, I saw what I thought was a toy he'd chewed up.
"It took a moment before I realised the full horror of what it actually was, the remains of Nala. It was devastating," she said.
Potts had been offered advice by the RSPCA in July 2011, was also given neutering vouchers and had had a third dog rehomed.
Ms Campbell added Simba's survival was a "miracle".
"The conditions in the house were terrible. The place was covered in faeces and the floor was slippery with urine.
"There was a shredded dog food bag on the floor, an empty tub of gravy granules, chewed towels and what was left of his companion.
"Tragically there was a bag of dog biscuits on the worktop which looked as though the dogs had been trying to reach it, but it was just too high," she said.
Potts' solicitor told the court his client had been finding it difficult to manage his responsibilities and had moved in with his mother to help.
Simba has since been rehomed by the RSPCA.