Saddam 'buttock' sale: Two men released without charge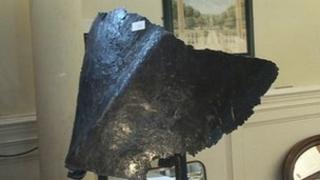 Two men arrested on suspicion of illegally importing a piece of a bronze Saddam Hussein statue from Iraq have been released without charge.
Jim Thorpe, 67, and Nigel Ely, 52, had been questioned about plans to sell the bronze piece of buttock.
They were arrested in January after the Iraqi government asked Derbyshire police to investigate.
A police spokesman said the piece of statue had not been recovered and there was "doubt about its authenticity".
£250,000 price
The statue was toppled in Firdos Square, Baghdad, in March 2003 and the buttock was put up for auction in Derby but not sold.
Mr Thorpe is a director of Trebletap, a firm which specialises in turning war memorabilia into pieces of art, and Nigel Ely, 52, is the firm's founder.
Under Section 8 of the Iraqi Sanctions Order 2003, anyone who has Iraqi cultural property must hand it over to the police.
A police spokesman said: "It is disappointing that a large amount of police time and resource has been required to investigate the claim that this item was genuine.
"If any new evidence comes to light, or if the item is traced and is shown to be genuine, further police action will be taken."
Mr Ely, a former SAS soldier from Herefordshire, said he brought the piece to the UK but it did not sell at an auction in Derby after failing to meet its £250,000 reserve price.
He said he used a sledgehammer and chisel to remove the portion when the statue was brought down in central Baghdad at the end of Hussein's reign.