Derbyshire police candidate Alan Charles quits over offence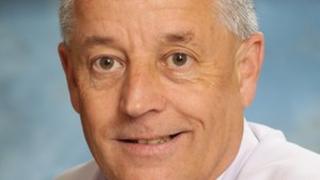 A Derbyshire police commissioner hopeful has become the second Labour candidate in two days to stand down over a previous criminal offence.
Alan Charles said he stood down after it emerged a "minor offence" when he was a teenager barred him from the role.
On Wednesday Bob Ashford said a crime committed when he was 13 blocked him from candidacy in Avon and Somerset.
That led Bristol East MP Kerry McCarthy to label the legislation "draconian".
Defending her colleague, the Labour MP said: "I don't think even the government realise that this legislation was as draconian as it's turned out to have been drafted."
Mr Charles, who was chosen as Labour's candidate to be Derbyshire's first police and crime commissioner (PCC) in June, said his offence was also minor and committed 47 years ago.
He did not release any details of the incident for which he was convicted, but said he decided he must stand down after receiving clarification about which offences disqualified candidates.
He has served as a councillor for more than 20 years and as vice chair of Derbyshire Police Authority.
Mr Charles said: "A minor criminal offence I committed as a 14-year-old... for which I was given a year's conditional discharge has now barred me from standing for the PCC post.
"I have today taken the difficult decision to stand down as the Labour Party candidate for Police and Crime Commissioner for Derbyshire."
'High standard'
The BBC understands there is no prospect of the eligibility rules for PCCs being changed.
A Home Office spokesperson said: "The Police Reform and Social Responsibility Act 2011 disqualifies a person from standing for election as a PCC if they have at any time been convicted of an offence for which a person could be sent to prison; whether or not they themselves were sent to prison for that offence.
"This high standard was set with cross-party agreement because PCCs will hold police forces, whose duty is to uphold the law, to account."
The government has championed the idea of PCCs as a way of making the police more accountable.
They will have powers to hire and fire chief constables, set police force budgets and commission some criminal justice services.
The Home Office said PCCs would give the public a voice, strengthen the fight against crime and help ensure that local communities are kept safe.
PCCs will replace police authorities in 41 areas in November.