Long Eaton fatal flat explosion 'terrifying' says eyewitness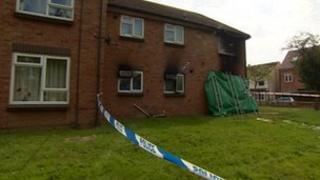 An eyewitness has described an explosion at a flat in Derbyshire in which one man died as "terrifying".
The fire service has confirmed the blast on Queen Street in Long Eaton on Saturday is not being treated as suspicious.
Neighbour John Haywood said: "I heard a boom, but we couldn't go in. There was nothing we could do."
The body of the 57-year-old victim, who has not yet been formally identified, was found in the first floor flat.
Mr Haywood said: "We saw the flat alight. I walked up to the side of the building and shouted inside.
"I saw the old chap in his wheelchair… there was a second explosion and a television came flying through the window."
"It was terrifying really."
Another local resident Paul Espin said: "Some of the neighbours tried to kick down the door so we could go in to get him out but the flames were that intense there was nothing we could do for him."