Approval for Denby Pottery's hotel and retail plans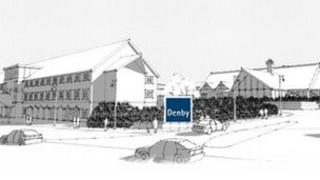 Plans for a Derbyshire Pottery firm's new hotel, pub and retail complex have been approved.
Denby Pottery submitted the plans to Amber Valley Borough Council in February, which gave its approval on Monday night.
The pottery firm claims the development - including a garden centre and woodland - will bring about 600 new jobs to Denby.
The plans must now be submitted to the secretary of state for final sign off.
'Denby in Denby'
Councillor Norman Bull said the development was good news for the area.
"This present management team pulled Denby back from the brink and they have gone from that to submitting this wonderful, great plan," he said.
"They [the company] wanted to remain in Denby, as in it's no good making Denby pottery in Chesterfield, that wouldn't be any good would it?"
Denby Pottery wants to build the 80-bed hotel along with a restaurant, garden centre and a new warehouse on its Derby Road site.
The proposals for the 80-bed hotel also include the refurbishment of part of the firm's current factory and a new warehouse.
Denby Pottery said its visitor centre, which currently employs 95 people, attracts about 200,000 people a year.
The company, which was founded in 1809, was the subject of a £30m management buyout in 2009.