Chatsworth Estate to get Diamond Jubilee wood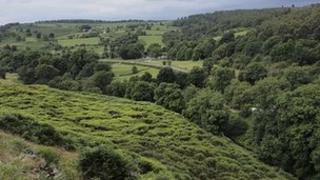 A new wood is to be created in Derbyshire's Chatsworth Estate to mark the Queen's Diamond Jubilee.
More than 40,000 trees and shrubs will be planted on moorland next to the A619 road heading into Baslow.
The 62-acre forest will form part of a national network of new woods being planted by the Woodland Trust to mark the jubilee.
The Forestry Commission is providing a £155,000 grant and the first trees will be planted in November.
The Duke and Duchess of Devonshire said it would continue their efforts to build up woodland across the estate to encourage bird species to re-establish themselves after years of decline in the region.
Georgina McLeod, from the Woodland Trust, said: "To be able to work with the Duke of Devonshire is an honour and we're delighted to help create a Diamond Wood at Chatsworth.
"They both have a great passion for trees and we hope by working together we can instil this passion in all who plant trees with us and visit the wood as it grows."