Man arrested over Derby fire deaths released without charge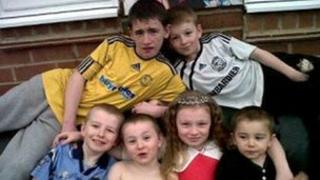 A 45-year-old man questioned by police in connection with a fire in Derby that killed six siblings has been released without charge.
Jade Philpott, 10, and brothers John, nine, Jack, eight, Jessie, six and Jayden, five, died in the blaze in May and Duwayne, 13, died three days later.
Their parents Mick Philpott, 55, and his wife Mairead, 31, have been charged with their murders.
Police said the man, arrested in June, was told he would not face any charges.
The children died after a fire at their home on Victory Road on 11 May.
Mr and Mrs Philpott remain in prison custody and will appear again at Nottingham Crown Court in November.