Derbyshire police candidate Alan Charles will 'resist privatisation'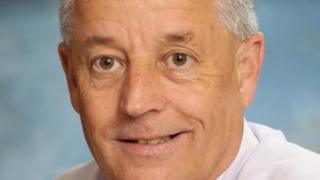 Labour's candidate for the post of Derbyshire's Police and Crime Commissioner has said "resisting privatisation" is a priority for him.
Alan Charles, a Derbyshire councillor and vice chair of Derbyshire Police Authority, said he strongly opposed the government's 20% police budget cuts.
He is up against Conservative candidate Simon Spencer and two independents, Rob Lane and Rod Hutton.
The successful candidate will help develop strategies for cutting crime.
Commenting on his plans if elected, Mr Charles said: "Under my leadership, a job with the police will mean professional fulfilment and good working conditions - the best foundation for serving our communities.
"They are doing a tremendous job - and as in any other line of employment, have the right to expect excellent conditions at work and professional standards that are fairly and rigorously enforced," he said.
As part of his manifesto, Mr Charles said "no G4S-type privatisation" and "protecting vulnerable people" were promises he would deliver.
The commissioner, who will replace Derbyshire Police Authority, will have the power to choose chief constables and is expected to hold officers to account.
On 15 November 37 police and crime commissioners will be elected in England along with four in Wales.