Derby Feste 2012 starts with film of thousands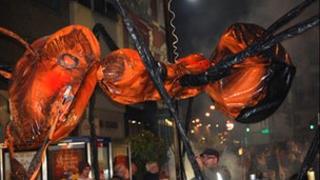 Derby's annual arts festival has got under way later with the screening of a mass participation film featuring thousands of people from the city.
The three-day Derby Feste will include video projection shows, dance performances, street art and music.
Event organisers have scrapped the city parade element and are charging an entry fee for one of the shows for the first time.
But they said there was still a lot people could enjoy for free.
The festival, now in its sixth year, began with the premiere of Derby Soap Opera, which saw 15,000 people from the city becoming actors, singers, stage directors and costume designers during production between February and July.
It then features performances and exhibitions at venues around the city, including Quad arts centre and Deda.
'Exciting and ambitious'
The event culminates with a stage show at Darley Park on Saturday night featuring giant video projections, music and fireworks.
Keith Jeffrey, one of the organisers, said the decision not to hold a parade through the city was an attempt to keep the festival fresh.
The entry fee for two shows by French performance artists Luc Amaros is the first in the history of the event, which is funded by the city council, Arts Council England and the National Lottery Legacy Trust.
Mr Jeffrey said: "There are financial challenges placed on Feste and we need to try to generate some income."
"There is still lots to see that is free but the reality is cash is tight and we have to make the most of our resources. The programme is as exciting and ambitious as it ever has been," he added.