Hilltop Action Group protest against opencast mine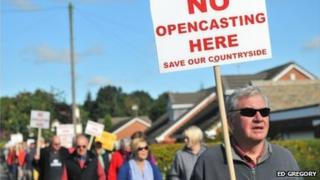 A protest group has marched around the proposed site of an opencast coal mine in Derbyshire.
Hilltop Action Group says the mine would be too close to homes in Tupton, Holmgate and Clay Cross.
North East Derbyshire MP Natascha Engel joined the march to show her support for the action group.
Provectus, the firm behind the plans, said it would only proceed if the 30-month extraction can be done within "strict environmental parameters".
The company said these parameters would include noise, dust and nuisance, and it said no planning application had been submitted yet.
Hilltop Action Group member John Gregory said: "It is so close to so many houses. There are about 1,300 houses within 500m of the site.
"In Scotland and Wales you can't do this within 500m but the law doesn't apply in England."
The proposed site is about 30 hectares (75 acres) west of the A61.
Mr Gregory lives between 150 and 200m from the site.
"We would have to put up with noise and dust, and there is also the visual impact," he said.
"Clay Cross is going through regeneration and trying to attract business and this is the last thing it needs."
The group is also worried fine dust particles from the site could be harmful to health.