Mother: 'My 14-year-old told me she was a prostitute'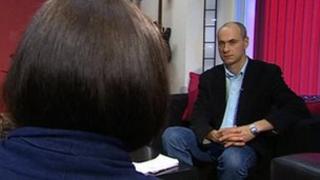 A mother has described the moment she learned her 14-year-old daughter had been paid for sex by an older man.
The girl had been targeted by one of eight men who have now been jailed for sexually exploiting "vulnerable" under-age teenage girls following a major police operation in Derby.
The mother said she first realised there was a problem when she noticed a change in her daughter's behaviour.
"She was going missing repeatedly. I had no idea where she was," she said.
"First of all I thought it was just typical teenage behaviour - pushing the boundaries - but all of a sudden it just seemed to go up a huge gear.
"She had no compassion, no empathy. She was abusing alcohol and drugs - and it was only afterwards I found out she was using those things to blot out what she was going through."
'Bombarded with texts'
The daughter sat her down and explained that an older man had been giving her cash and drugs in return for sex.
She said: "She told me she had something very serious to tell me. She said: 'I've been working as a prostitute'.
"It was devastating. The initial feeling as a mum is guilt. Why didn't I realise what was going on?
"I felt I had failed to protect the most important thing in my life - my daughter.
"Then it was literally a rollercoaster ride of social care, police involvement and support workers. All of a sudden it just descends on you.
"It had started through a school friend. I think most people assume it's always going to be men that ensnare the kids but it doesn't always work like that - it can be school friends."
Her daughter had been having sex with a man more than twice her age and was being pestered to do it again.
She said: "He was paying her for sex. Then, when she was trying to stop, he was bombarding her with text messages, saying that he loved her and missed her.
"These men pretended to the girls that they were their friends, that they cared about them."
'Total scum'
The mother and her daughter told the police what had been happening.
She said: "The police were brilliant. She never had any qualms about sitting down and talking to them.
"Don't feel scared to go because they were absolutely brilliant and, importantly, they believed my daughter."
Her evidence formed part of a major operation which saw her abuser and another seven men brought to justice.
But her mother said she was still struggling with the aftermath of being exploited.
She said: "My daughter has a history of self-harming, drug and alcohol abuse. I'm so proud of her, the way she's overcome both of her addictions.
"She no longer self-harms but she still has a lot of mental health problems and post-traumatic stress disorder."
The mother has nothing but contempt for the men who targeted her daughter and other teenage girls.
She said: "I think all men and women who abuse any child are scum, total scum.
"They prey on the vulnerability of any child - that child doesn't have to be from a care home or a bad home, they're children from all walks of life.
"While people sit there and blame the parents or social care, it's almost like trying to justify the men's behaviour.
"But there's no justification for breaking the law and abusing children."