Amber Valley council votes to shut all its public toilets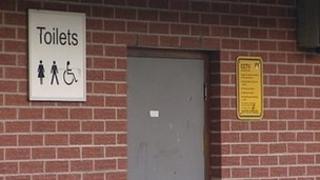 A council in Derbyshire has voted to close all its public toilets because they are too costly to run.
Amber Valley Borough Council will shut its remaining 10 toilets by next March in a bid to save £50,000 a year.
The decision was opposed by Labour councillors but the Conservative leadership said people would have access to toilets in pubs, restaurants and shops instead.
Four public toilets in the borough have already been closed by the council.
£600 'fee'
Businesses in the borough, including pubs and restaurants, are being offered £600 a year to open their toilets to the public.
Conservative leader Stuart Bradford said it was too expensive to operate and clean the toilets and stop them being vandalised.
Mr Bradford said: "A lot of the toilets are vandalised... and it makes it very difficult for the public to use them with safety.
"The primary objective is to give the public better facilities - we want to offer the best, clean, safe, secure facilities for the public.
"There is a spin-off in savings which is something we cannot ignore," he added.
Deputy Labour leader Chris Emmas-Williams said: "It is not acceptable to close all the toilets… it will be a problem for everyone including younger and older people in the area."
The authority said it hopes businesses in the towns of Ripley, Heanor, Alfreton and Duffield will agree to open their toilets for the fee.