Heather horse at Derbyshire colliery site near M1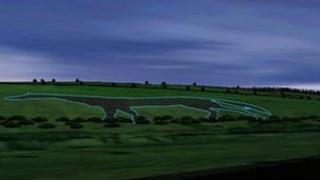 A business park at a former colliery site in Derbyshire will be marked by a huge horse made of heather, the site developer said.
The 228m-wide Markham Vale horse will be visible from the M1 when it is completed at the end of 2013.
The businesss park, part of a £77m regeneration project near Bolsover, aims to create 5,000 jobs in the area.
A new M1 junction has already been built near the site to provide access for businesses and employees.
The outline of the horse will be lit up in the evening using power generated by on-site wind turbines.
A spokesman for Derbyshire County Council, which runs the site, said any excess energy from the turbines will be sold back to the National Grid with profits donated to local causes.
Derbyshire County Council leader Andrew Lewer said: "We want to create something which is iconic, puts Markham Vale firmly on the map, and looks to an exciting future of further jobs creation."
Mining at Markham Colliery ended in 1993 after 111 years of coal production.
Markham Vale has been granted Enterprise Zone status which allows companies moving to some areas of the site to apply for tax relief.
Another art project at the site will include 100 steel figures built as a memorial to the thousands of miners who worked there.