Derby 'Speakers' Corner' unveiled in Market Place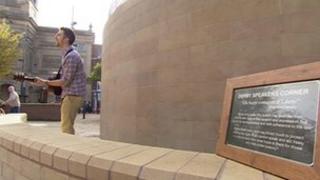 Derby's version of London's famous Speakers' Corner has had its official launch in the city's Market Place.
A brick platform has been installed next to the square's waterfall statue to allow people to air their views.
A plaque is to be installed above the platform at a later date. The idea was agreed by the city council in 2009 but has taken years to complete.
Among the first people to air their views were a disability rights campaigner and a political singer.
Derby City Council's Ranjit Banwait said: "An essential part of free speech in a democratic society is that people should have a right to say more or less whatever they want within the confines of the law.
"It's not just about politics. We're encouraging people to talk - or sing - about whatever they want."