American Adventure site plans include 400 new homes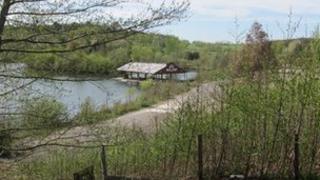 The company behind plans to redevelop the former site of a Derbyshire theme park says it hopes to build up to four hundred new homes.
Waystone Development said its plans for the land in Shipley, where American Adventure was based until 2007, also include a small business park.
It said it hoped to reopen a 31-acre lakeside area to the public. The whole site covers about 112 acres.
The first phase of Waystone's public consultation concludes on Tuesday.
The developer's plans for the Shipley Lakeside site were approved by Derbyshire County Council in July.
Waystone said its proposals included a mix of uses including homes, retail, leisure and training facilities.
The company said it would be taking feedback for the first consultation phase in an online questionnaire until Tuesday.
Kevin Parkinson, who sits as the county council member responsible for regeneration and also as the borough councillor for Shipley, said he welcomed new leisure facilities at the site but was concerned housing had become such a major part of the plans.
The new development would be surrounded by an extensive nature reserve on land sold to the Derbyshire Wildlife Trust.