Residents complain about Derby's Duckworth Square 'eyesore'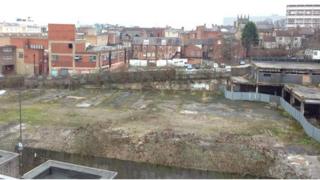 The empty site of a former shopping centre in Derby is dragging the area down, business owners say.
Duckworth Square was demolished in 2003 and the space has been unused since.
The land is privately owned by Metropolitan Housing which bought the site five years ago with the intention of building offices and apartments.
The firm confirmed it is in talks with the city council and there would be further details in the coming months.
Residents who are putting pressure on the owners to develop the land have also suggested a temporary park could be created in the area until something permanent is agreed.
Paul Bennett, who owns a hotel overlooking the square, said the "eyesore" was putting off his customers.
'Desolate wasteland'
"The view is a desolate wasteland," said Mr Bennett.
"Anyone will remember the old Duckworth Square was a hive of shopping activity and now we have just concrete and it is an eyesore.
"Maybe an inner-city park or a bit of greenery would help brighten the area up."
David Donnelly, minister of Central Derby United Reformed Church, said: "We have got positive vibes about the city centre with other areas being developed but this looks like a hole in the middle of Derby."
In 2003, when the shopping precinct was torn down, Derby Cityscape, said the area would be part of a £225m regeneration plan.
Derby City Council had previously put forward plans to move their headquarters and the council's swimming pool to the site but these were rejected by Metropolitan Housing.
A spokesman for Metropolitan said: "We are currently in dialogue with the local authority and are unable to comment on specific details at this time.
"As soon as we have more information we will provide an update."