Owen Brennan: Wife thanks police and community for help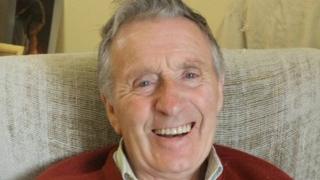 The wife of a missing racehorse trainer has thanked those who searched for him after a body thought to be his was pulled out of a river.
Owen Brennan, from Derby, disappeared after leaving his home to go for a walk on 17 December.
A body, believed to be that of the 77-year-old, was pulled from the River Derwent in Darley Park, Derby, on Wednesday.
A mass will be held at St Mary's Church in Derby at a date to be set.
Father Tim O'Sullivan, who is priest there, knew Mr Brennan well.
"When you met him he always had something to relate, some nice story," he said.
"[He was] always upbeat, even though he had his usual ups and downs in life.
"Within the racing people he was very well respected. He was regarded as a good horseman."
Mr Brennan recently had a stroke and suffered with memory loss, which Father O'Sullivan said was "sad".
'Deep faith'
Pat Brennan, his widow, thanked the community for their support through the Six Streets community group.
A statement from the group said: "She wishes to say thank you to all the people who helped in the search for Owen, to those who have offered other practical help as well as those who have offered other support in the last difficult weeks."
Father O'Sullivan said: "She's a strong person with a deep faith, as he did as well.
"She specifically mentioned the support she got from Derbyshire Police."
People from the racing world have posted tributes on Twitter.
Jockeys' valet Phil Taylor described him as a "true gent of the racing world".
Jockey James Halliday said he was "a pleasure to ride for and a real gentleman".