Methadone mother thought toddler's beaker was 'safe' place for drug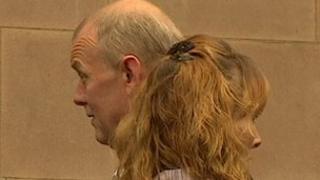 The mother of a toddler who died after swallowing methadone said she was looking for somewhere safe for the drug when she put it in the child's beaker.
Sally Dent, 33, and her partner Shaun Binfield, 45, both deny the manslaughter of two-year-old Riley in March 2012.
The boy died after drinking methadone in Belper, Derbyshire, Nottingham Crown Court was told.
The court heard that Ms Dent had been addicted to heroin since she was 16.
Extra cash
Ms Dent said she had come home on 12 March with three bottles of methadone which she had been prescribed.
She told the court she regularly sold some of her methadone to another addict to make extra cash.
She said she went into her kitchen and poured some of the drug into a green and yellow child's beaker.
Sobbing in the witness box, Dent told the court: "I looked around to see what I could put it in and that's when I put it in my baby's beaker.
"I was just thinking of somewhere safe to put it because the lid was so tight I knew it wouldn't spill."
Ms Dent said she would usually have put the drug into an empty methadone bottle but that she did not have any.
She said she then put the beaker on the window sill where Riley could not get to it.
Simon Clarke, defending Ms Dent, asked his client to describe the safety precautions the couple had put around their home to protect the child.
The court heard there were baby gates in place and plug socket covers along with coverings on table edges.
Ms Dent told the court she would always take the heroin in the kitchen - ensuring the baby gate and kitchen door was closed behind her.
'Clean' from drugs
Mr Binfield would then look after Riley in the living room while she took her drugs.
Ms Dent told the court she had been clean since Riley's death and denies a second charge of child cruelty to a person under the age of 16 as it is alleged she failed to ensure her son was kept away from Class A drugs.
A child cruelty charge against Mr Binfield has been dropped.
The trial continues.