Mobility scooter victims to visit Downing Street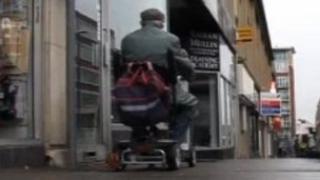 A mother whose son was injured by a mobility scooter intends to visit Downing Street to demand tighter regulations.
Caren Jephson from Derby plans to take a bus-load of people who have been injured by the vehicles.
She has received emails from 200 people hit by mobility scooters since she started her campaign in October.
MPs have previously considered introducing a fit-to-drive test.
A coroner criticised the "serious lack" of regulations after a 90-year-old woman was knocked down on an Isle of Wight pavement and killed in 2009.
"This is not a new thing, it has been going on for years but no-one has actually done anything about it," said Mrs Jephson.
"It just breaks your heart when you hear these stories that have happened.
"A lady emailed me to say that her husband got knocked over by one and it broke his hip and he has not been the same since."
Shocked and bruised
Mrs Jephson's nine-year-old son Isaac was hit by a mobility scooter in October.
Isaac was on a pavement at the time. He was thrown against a shop window and fell to the floor. He was left shocked and bruised.
Mrs Jephson reported the incident to the police but was told they did not have powers to take action.
"The police officer said he had been hit by one himself on a cycle path and he was off work for three months," she said.
"He said he agreed with me that something should be done."
Insp Ben Goodman, a traffic specialist for Derbyshire Constabulary, said mobility scooters should not travel at more than 4mph on pavements, or 8mph on roads.
Mrs Jephson started gathering a petition and now has 3,000 signatures calling for mobility scooter users to take a proficiency test.
"I'm not against mobility scooters," she said.
"What I'm for is to have them legislated properly because there are going to be more people using them, because people are living longer."
Mrs Jephson intends to travel to Downing Street towards the end of February.