Derbyshire County Council's Cabinet approves £127m budget cuts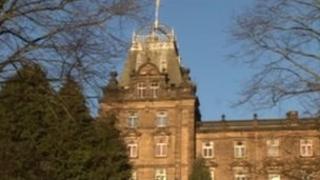 Plans to make savings of £127m over four years, including a £9m cut in adult care, have been approved by Derbyshire County Council.
The Conservative-run authority had already made plans to save £96m by March 2015 and about 1,600 jobs have been lost so far.
Proposals include £7.7m of savings in children and younger adults' services for 2013-14.
The budget plans will go to the full council for final approval next week.
Council leader Andrew Lewer said savings needed to be made as government grants to local authorities had been cut.
"The squeeze on public spending to reduce the national debt means tough choices have to be made. We've already saved £70m and will save a further £27m over the coming year," he added.
"We will continue to protect frontline services and jobs wherever possible and look at more efficient ways of working to make every penny of taxpayers' money work for their benefit."
More cuts 'inevitable'
The authority said other departments were being given extra funding to meet pressures on services, such as £1.1m to support rising numbers of children in care and £1.8m to combat increased landfill charges.
Council tax will also be frozen for a third year.
Councillor John Harrison, the cabinet member for finance and management at the county council, said it was "inevitable" a further 1,400 job cuts would be made by 2016-17 to help find more savings.
Katy Pugh, chief executive of Age UK Derby and Derbyshire, said there was concern for the services that were being hit.
She said: "We hope the council uses services and organisations in the county who are very experienced in managing on a small amount of money.
"They have to really get creative with this if they are having to redevelop and work differently."
Opposition labour leader Anne Western said councillors were "in denial" about the effect of savings on frontline services.
"The Conservatives are trying to pretend all these cuts won't have an impact on services but it already is," she said.
"People can see the effects just by looking at the state of the roads, cuts within older people's services and the difficulties disabled people are already having.
"It is a really damaging day for Derbyshire."