Derby ring road works continue to disrupt traffic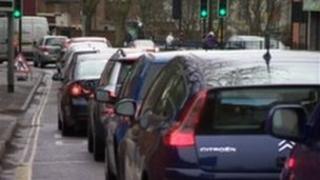 Traffic has been disrupted for a second day as work continues on Derby's inner ring road.
Vehicles were brought to a standstill on Monday as parts of the ring road were closed to carry out maintenance on three bridges on St Alkmund's Way.
The work between the Derwent Underpass and King Street will cost £1.2m and is scheduled to last until June.
The city council says the work is "essential" and traffic flow is expected to improve in the coming days.
An emergency meeting took place on Wednesday between the head of highways and senior officers at Derby City Council to discuss the road closures following feedback from the public.
Over the next six months, the three bridges will be refurbished with new lighting installed and 600m (1,968ft) of concrete barriers replaced.
'A nightmare'
Cab driver Mohammed Rashid said it took him 45 minutes to travel one mile and he had seen an ambulance struggling to get through the traffic for almost seven minutes.
He said: "It is a nightmare. This council has been telling people not to travel but if you have a business to run or any type of work to do, then you tell me how do we fly over this?
"Six months is a long time to suffer, how can it get better?"
Work had originally been planned to start on 21 January but was delayed for a week due to the icy weather.
At the meeting officers said extra signs would be placed around the roadworks to warn motorists and temporary traffic lights would be controlled manually to ensure traffic was kept moving.
David Bartram head of highways and engineering at Derby City Council said the work had been vital after lumps of concrete up to 9in (22cm) in size had fallen from the Derwent Underpass in December.
"The bridges are more than 40 years old, in a poor condition and in urgent need of repair," he said.
"If these lumps of concrete had hit a vehicle or pedestrian it is likely they would have killed someone."
Officers emphasised that traffic was expected to ease as more motorists found alternative routes.