Derbyshire County Council's £127m cuts plan passed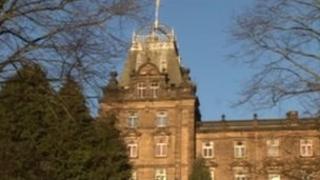 Plans to make savings of £127m over four years, including a £9m cut in adult care, have been passed by Derbyshire County Council.
The Conservative-led authority said 1,400 job cuts would be made by 2016-17.
Anne Western, leader of the Labour opposition, said it meant a further nail in the coffin for public services.
Council leader Andrew Lewer said it would continue to try and minimise the impact of the cuts.
'Fantasy world'
He said: "We are not going to add to people's problems by [raising council tax].
"We're doing very well, and will continue, to minimise the impact of cuts and bring in some exciting new initiatives into adult care."
Mr Lewer had said previously that savings needed to be made as government grants to local authorities had been cut.
Mrs Western said: "I think it's a further nail in the coffin for public services in Derbyshire what we would have done is lobby the government to get a fair share of financial resources.
"Local government has been hit far harder than any other part of the public sector, massively affected by cut and we think that's unfair."
Mr Lewer said the Labour group was living in a "ludicrous socialist fantasy world" and would increase council tax.
Mrs Western said the council cannot go on taking the freeze on council tax offered by Communities Secretary Eric Pickles.
The job cuts would be made by voluntary redundancies and retirement, and not filling vacant posts, the authority has said.