Stanton ironworks plan for 2,000 new homes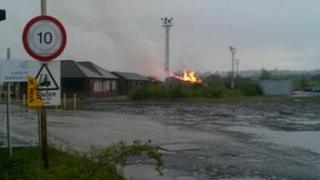 Redevelopment plans for a former Derbyshire ironworks hit by fire in 2012 include almost 2,000 new homes and a business park.
The plans for the former Stanton Ironworks near the Nottinghamshire border have been submitted by building materials giant Saint-Gobain.
The project would also include shops, restaurants, a 150-bed senior care facility and community facilities.
Consultation over the plans has started and will end in May.
'Canal uncovered'
Les Foulger of Saint-Gobain said the firm had spent five years considering the future of the "vast industrial landscape" at Stanton.
"A large stretch of the historic Nutbrook Canal will be uncovered through the site," Mr Foulger said.
The plans also include a primary school, health centre and sport pitches.
Work would begin in 2015 if planning permission is granted.
The 470-acre former ironworks site, located close to the M1, was hit by a fire in September 2012 that burned for nearly two weeks.