Rolls-Royce Submarines: £800m contract awarded by MOD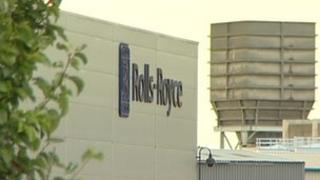 Rolls-Royce Submarines in Derbyshire has been awarded an £800m contract aimed at delivering and supporting the UK's nuclear fleet, and 2,000 jobs.
A spokesman said the Ministry of Defence (MoD) contract would put its existing Raynesway factory work into a "new commercial framework".
The MoD said it would help meet a commitment to save £900m in a nuclear submarine industry restructuring.
The contract's duration was ten years, it said.
Defence Minister Philip Dunne told the Commons costs would be £200m lower as a result of the agreed deal.
In a written statement to MPs, Mr Dunne said the contract covered the overhead, running and business costs at Rolls-Royce Submarines sites.
He said the new deal consolidated costs, focussed on efficiency and secured future terms and conditions between the firm and the MoD.
Rolls-Royce Submarines had a vital role to play in meeting the present and future defence and security needs of the UK, he said.