Derby fire deaths: Mick Philpott 'watched wife having sex'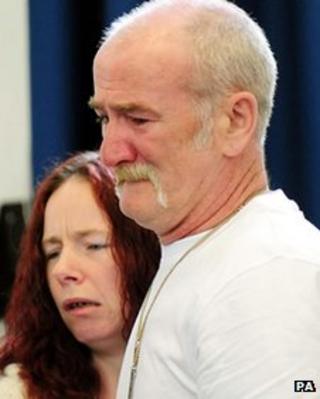 A man accused of killing six of his children in a house fire watched his wife have sex with another man from which she fell pregnant, a court heard.
Claire Tyler, a friend and colleague of Mairead Philpott, told the court Mrs Philpott aborted the pregnancy.
She also said Mrs Philpott's character become more subdued when her husband was around.
Mrs Philpott, 31, her husband Mick, 56, and Paul Mosley 46, deny manslaughter of the couple's six children.
The three are accused of starting the blaze at the Philpotts' home in Victory Road, Allenton, Derby.
Jade Philpott, 10, and her brothers John, nine, Jack, eight, Jesse, six, and Jayden, five, died in the fire. Their brother Duwayne, 13, died three days later in hospital.
'Mick was there'
On the fifth day of the trial at Nottingham Crown Court, the jury heard from Ms Tyler who worked as a cleaner with Mrs Philpott at the Royal Derby Hospital.
Ms Tyler said Mrs Philpott had taken time off work to have an abortion.
Shaun Smith QC, representing Mrs Philpott, asked Ms Tyler: "It's the case, isn't it, that she had had sex with another man and the child was a result of that?
"And that was when Mick was there, that she had had sex with another man?"
"Yes," Ms Tyler replied.
She told the court that when Mrs Philpott was at work she was bubbly and talkative, but when her husband was in the room her personality changed and she became subdued.
Earlier in the hearing, two officers said Mr Philpott regularly rang police in an attempt to get custody of four of his children after his former mistress Lisa Willis left with them.
The prosecution alleges the fire was started in an attempt to frame Miss Willis and gain custody of Mr Philpott's children.
Miss Willis's sister Amanda Cousins told the court on Friday that she stayed with her after she had left Mr Philpott.
She said Miss Willis was crying all the time and was "in a big mess".
'Rip head off'
Jurors heard Mr Philpott turned up at her home in his minibus with his wife and four of the children a few weeks later and threatened her.
"He told me to watch my back… He was going to have me done over in Derby when I was in the nightclub," she said.
For the defence Anthony Orchard QC said Mrs Cousins had an intense dislike for Mr Philpott because Amanda once lived with him and his then wife Pam Lomax, working as a nanny - and they had fallen out.
He read out a text message in which Amanda threatened to rip Mr Philpott's head off if he contacted her sister again.
The Philpotts, formerly of Victory Road, and Mr Mosley, of Cecil Street, Derby, are charged with six counts of manslaughter; one for each of the children.
It is anticipated that more than 100 witnesses will be heard throughout the trial, which is expected to last six weeks. It continues on Tuesday.