Dugge the dog reunited with Derby owner after stranger pays £68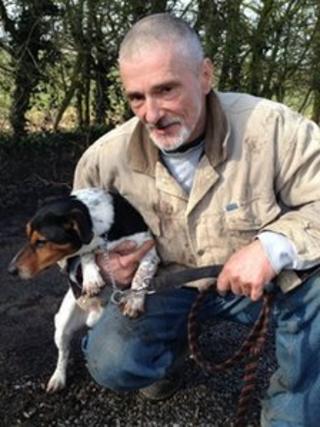 A man been been reunited with his impounded dog after a stranger came forward and offered the £68 needed.
Mike Phillips could not afford to pay the money to the council after his dog escaped from a communal garden at his home in Derby.
Gary Horzath offered to pay it for Mr Phillips after hearing him interviewed on BBC Radio Derby.
Derby City Council said the dog should have had identification and the charge was to cover its costs.
Mr Phillips was reunited with the Jack Russell cross, called Douglas E Fairbanks Dawg - or Dugge for short, on Tuesday,
The 54-year-old said: "The dog's been missing for nearly a week now. I've missed him, my other dogs missed him.
"Coming in and not being greeted by Dugge is like losing one of your kids."
After seven days the council would have tried to rehome the dog.
Mr Phillips added: "I'm so pleased to have him back. So grateful to Gary."
Mr Horzath said he did not want paying back.
"I'm just pleased that I can help him," he said. "I've got a dog myself and I know how I would feel if I lost him and I just thought I've got to help this guy."
No identification
The dog escaped through metal fencing at Mr Phillips's home in Leaper Street.
The fencing had recently been replaced by the council and Mr Phillips said the gaps are too big.
Jack Twomey from Derby City Council's environmental health team said the dog should have been on a lead, and it had previously escaped less than a month before.
It had been returned to Mr Phillips on that occasion, who was advised to get it chipped or get a collar and tag.
Mr Twomey said: "We would take a dog back to an owner for free where we can get some identification but if it's not got some identification we've got no alternative but to take it back to our kennels."
Owners of dogs taken in as strays and removed to a dog pound are liable for a statutory charge of £25.
Mr Twomey said dog owners should pay the council's additional costs instead of taxpayers.