Derby fire deaths: Firefighter describes carrying children out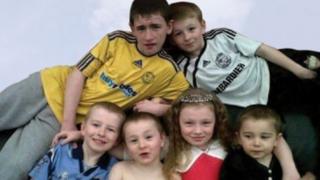 A firefighter has told a manslaughter trial how he found "casualties everywhere" as he searched for children in a fatal house fire.
Five children died in the blaze at their home in Derby last May, and a sixth died later in hospital.
Their parents Michael and Mairead Philpott, and family friend Paul Mosley, deny their manslaughter.
Firefighter Michael Patterson said he could barely see his hands in front of his face as he searched the home.
He told Nottingham Crown Court that a colleague passed him a child, whom he carried downstairs before going back to search for more children.
'My babies'
He told the court: "It was confusing and chaotic with a great sense of urgency. There seemed to be casualties everywhere."
A 999 call was taken at 03:46 BST on 11 May, the court heard.
The fire had created such thick black smoke Mr Patterson said he had to locate the children by touch.
He said he carried three of the children out one at a time and laid them on the pavement.
In a statement read to the court, PC Nicola Ward said Mr Philpott was standing shirtless in the street when one of the children was carried out.
"Mick Philpott suddenly started screaming and ran towards the child shouting 'no'," she said.
"I had to restrain him and tell him to stand back."
Mr Philpott fell to the floor, the court heard, and was saying: "I've got to get to them, they are my babies."
PC Ward said she saw Mrs Philpott come out of a neighbouring house in her dressing gown and hug her husband.
'Began to scream'
"I saw the female look over the male's shoulder and look towards the child," she said.
"The female then began to scream, they both fell to the floor holding one another."
PC Ward said she and another officer had to hold Mr Philpott back again when two further children were brought out.
"I put my arm around his stomach area and was saying to him 'No Mick, leave them, let them do their job'," she said.
"He dropped to his knees holding his face in his hands crying."
Mr Philpott is accused of starting the fire to frame his former mistress Lisa Willis during a custody battle over their four children.
Jade, 10, and her brothers John, nine, Jack, eight, Jesse, six, and Jayden, five, died at their home and brother Duwayne, 13, died three days later.
Mr Philpott, 56, Mrs Philpott, 31, both formerly of Victory Road, and Mr Mosley 46, of Cecil Street, Derby, each deny six counts of manslaughter.
The trial continues.