Derby fire deaths: Mick Philpott "paranoid" about child custody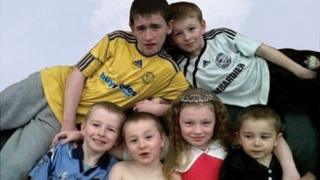 A father accused of killing six of his children in a house fire was "paranoid" about losing five other children in a custody battle, a court has heard.
Mick Philpott was afraid he would not be able to see the five after a hearing scheduled for the day the six died, a friend and neighbour told jurors.
Adam Taylor told Nottingham Crown Court Mr Philpott was not confident about the outcome of the legal hearing.
Mr Philpott, his wife Mairead and Paul Mosley have denied manslaughter.
Jade, 10, and her brothers John, nine, Jack, eight, Jesse, six, and Jayden, five, died at their home.
Their brother Duwayne, 13, died three days later.
'No emotion'
Mr Philpott, 56, was in a custody battle with his former mistress Lisa Willis, 29, after she left the home she shared with him and his wife, taking her five children with her.
The jury heard he was father to four of Miss Willis's children. He had another six with Mairead, 31.
It is alleged by prosecutors the fire was the result of a botched plan by the defendants to frame Miss Willis.
Mr Taylor, 34, who lived near the family in Victory Road, said he was surprised by Mr Philpott's behaviour in the aftermath of the fire.
"I just thought it a bit weird that he did not have any emotion or anything like that," he told the court.
Prosecutor Richard Latham QC asked him: "If he did not win, what did he think would happen?"
"That he would not get to see them," Mr Taylor said.
"He was adamant that he did not want access, like weekends, he wanted full custody."
Wedding vows renewal
Mr Taylor said the comments were made to him as the pair drove to a nearby address to buy cannabis for Mosley on the evening of 10 May, hours before the fire broke out.
Mosley and Philpott had been playing snooker together at the Philpotts' home when he asked Taylor to pick the drug up for him.
Mr Taylor's partner, Victoria Ferguson told the court that the night before the fire Mairead Philpott was "stoned".
She also said Mick Philpott was planning to renew his wedding vows, days after the fire.
He called her and said "Get your suits out, I'm asking Mairead to renew our vows", she told the jury.
The court heard that in the aftermath of the fire, Mrs Philpott had asked Ms Ferguson her opinion on her relationship with her husband.
"She asked me if I thought she was scared of him," Ms Ferguson said
"I just asked her why and she just said they were the sorts of questions she was being asked."
The case continues.