Falling ice chunk smashes into Derbyshire house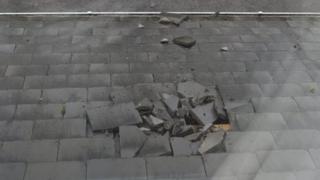 A football-sized chunk of ice believed to have fallen from an aircraft has damaged a house in Derbyshire.
The block smashed a hole in a tile-and-brick canopy at a house in Duffield in the early hours of Monday.
Homeowner John Parker, 66, said: "My wife screamed that there was a hole in the roof - it was quite amazing."
A spokeswoman for East Midlands Airport said it was looking into the incident but thought it was unlikely to be from one of its planes.
She said Duffield was not on a flight path from the airport at that time of night.
Mr Parker said: "We were awoken by what sounded like an enormous explosion.
"I thought there had been an accident on the road outside - I went to the window .. to see the drive covered in what I thought at the time was snowballs.
"My wife screamed that there was a hole in the roof - I looked out and there was a hole in the brick-and-tile canopy at the front."
Damage 'covered'
Mr Parker said the ice punched a 10ins-wide hole in the canopy.
A spokesman for the Civil Aviation Authority said a build-up of ice can occur in the seals of the exterior pipes where water is pumped into aircraft.
Water seeps out and ice begins to form at high altitude.
He said it was rare for chunks to fall as they normally dissipate into the atmosphere, adding that between 25-30 incidents are reported each year.
The roof of a house in Chichester, West Sussex, was damaged in 2010 when a chunk of ice crashed into it at night.
In 2006, a woman in Chaddesden, Derbyshire reported a lump of ice about the size of three bags of sugar fell from the sky and narrowly missed her car.
Mr Parker said house insurance will cover the cost of the damage to his house.