Derby fire deaths: Mortuary visit 'like a circus'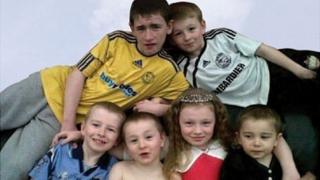 A mortuary visit by the mother and father accused of killing their six children in a house fire was "like a circus", Nottingham Crown Court heard.
Mortuary manager Marie Smith said a dozen people turned up for one visit. She described the behaviour of the father, Mick Philpott, as "irrational".
Ms Smith told the court Mr Philpott grabbed a family liaison officer in a headlock and took part in "horseplay".
Mr Philpott, his wife Mairead and Paul Mosley deny six counts of manslaughter.
Jade Philpott, 10, and her brothers John, nine, Jack, eight, Jesse, six, and Jayden, five, died in the fire at the family home in Victory Road, Allenton, Derby on 11 May.
Their brother Duwayne, 13, died three days later.
Gin request
Ms Smith told the court Mr Philpott's behaviour "wasn't fitting with what had taken place with the children".
She added: "He'd be quite angry one minute and then be apologising to everyone the next - it didn't appear to be genuine.
"He grabbed the family liaison officer around the neck like in a headlock - there was a lot of horseplay."
Ms Smith told the court that when she offered him some water, Mr Philpott asked if some gin could be put in it. She said nobody had requested that before.
She also said he appeared to pretend to faint when he came with wife Mairead for the first time after the fire at their house in Derby in May last year.
"Because of my experience working in that department, having seen many friends and relatives faint for whatever reason, it didn't appear to me to be genuine," she told the jury.
"He immediately woke up and got up when I said I was going to get a doctor."
The court also heard on Tuesday that he made threats against his former mistress Lisa Willis who had custody of their five children.
'In danger'
Social worker Suzanne Eastwood said Mr Philpott went from being calm to "angry and quite threatening" in a meeting they had after the fire.
Mr Philpott, 56, was in a custody battle with Ms Willis, 29, after she left the home she shared with him and his 31-year-old wife, taking her five children with her.
He had told Ms Eastwood, a social worker assigned to the family's case, the children were "in danger" if they went back with Miss Willis, the court heard.
Ms Eastwood told the jury: "He said we were putting them in danger because people in Derby were after Lisa.
"I got the impression he was insinuating that Lisa had started the fire.
"He said directly to me that he would get Lisa and carry out exactly what he had promised. He repeated it several times."
Ms Eastwood said Mr Philpott seemed "calm and matter of fact" when they talked about seeing his dead children at the mortuary.
She said she was "quite taken aback" because Philpott showed no emotion about seeing them.
He seemed calm during the meeting, which he attended with Mairead until he was told the five were in foster care while police investigated the fire, she said.
Nicola Atterbury, another social worker who was at the meeting said: "I did expect him (Philpott) to be quite emotional.
"I thought at one point he was going to cry, it was almost child like, he was squeezing his face as a child would to produce tears", she said.
The court was also told Mr Philpott was overheard at Derby Royal Hospital on the day of the fire saying: "It wasn't meant to end like this."
Witness Louise Quantick, who saw the six children being brought into the hospital, told the court she heard the comments when she went outside to smoke.
The trial of the Philpotts and Mr Mosley, 46, of Cecil Street, Derby, continues on Wednesday.