Derby death blaze accused trio 'rehearsed fire'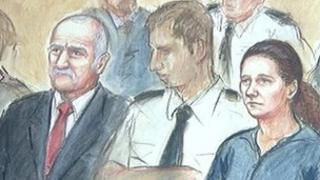 Three people accused of killing six children in a fire "rehearsed" the act six weeks before, a court heard.
Witness Melissa John told Nottingham Crown Court she heard the plan was for Mick and Mairead Philpott to run into the road and shout for help.
She said co-accused Paul Mosley would then kick in the door at the house in Allenton, Derby to rescue the children.
The court also heard a recording device was put in Mr and Mrs Philpott's hotel bedroom following the fire.
Det Constable Martin Hare told jurors every word was being monitored in real time 24 hours a day.
Mr Philpott, 56, Mrs Philpott, 31, and Mr Mosley, 46, deny six counts of manslaughter.
'Scream for help'
On Thursday morning, Ms John, girlfriend of Mr Mosley's nephew, said Mr Mosley had outlined a plan, which included Mrs Philpott taking the blame for the fire.
Earlier in the trial, the court heard the three had tried to frame Mr Philpott's former mistress Lisa Willis, 29, for the fire, in a row over custody of the five children she has with Mr Philpott.
Ms John told jurors he was "bragging" to a number of people about being on bail for murder.
She agreed with Ben Nolan QC, representing Mr Mosley, when he asked her if Mr Mosley was an "attention seeker" and a "fantasist" who used to exaggerate in order to "big himself up".
Ms John told jurors that after Mr Mosley was arrested, he told her the three defendants had practised what they would do as the fire took hold.
She told the court: "He said 'What if I was to tell you that we actually rehearsed this six weeks ago?'"
Prosecutor Richard Latham QC asked her what the plan had been once the fire had started and Ms John said: "Mick and Mairead were to be inside the house and Paul was to kick in the back door."
Mr Latham then asked her: "What were Mick and Mairead to do?"
"Run out on to the front and scream for help," Ms John replied.
Mr Latham then asked: "What was Paul to do?"
Ms John replied: "To save the children from the back bedroom."
Suicide note
She also told the jury Mr Mosley said Mr Philpott had been "going on about wanting a bigger house".
The court also heard Mrs Philpott, 31, had written a suicide note that said "next time she will take the children with her" and part of the plan had been for her to take the blame for the fire.
Five Philpott children died in the fire at the house in Victory Road. A sixth child died three days later.
Jade Philpott, 10, John, nine, Jack, eight, Jesse, six, and Jayden, five, died in the fire. Their brother Duwayne, 13, died later in hospital.
The trial of Mr and Mrs Philpott, formerly of Victory Road, and Mr Mosley, of Cecil Street, Derby, continues.